YOU ARE INVITED!
The virtual 15th CIM World Congress is FREE and open to everyone.
---
---
Information and schedules:
December 3, 2020, at 8:30 AM – 10:00 AM
On top of the physical toll, the pandemic is also associated with a mental or psychological burden. The emphasis on "physical distancing" has led to a phenomenon of isolation and stress…
Join us at the 15th CIM World Congress Webinar Series on December 3, 2020, at 8:30 AM, as we do an INSIGHT on…
A Quarantine Dilemma: Its Impact on Mental Health
December 3, 2020, at 3:30 PM – 5:00 PM
The Universal Health Care Law was enacted to ensure equitable access of all Filipinos to quality and affordable health care. But then, the COVID-19 pandemic came…will the UHC Law be the solution to save our challenged health care system? Or is it in a quandary?
Join us in "Unmasking the Universal Health Care Law," the second of a series of 4 webinars of the 15th CIM World Congress on December 3, 2020, at 3:30 PM.
December 4, 2020, at 3:30 PM – 5:00 PM
HINDSIGHT is ALWAYS 20/20…but would the lessons we had learned from the past months' ongoing battle with COVID-19 be enough to provide a 20/20 FORESIGHT, as well?
Join us on December 4, with our panel of discussants, comprising of an Infectious Disease consultant, a pulmonologist, the city health officer, and the medical society leader, tackling the best practices, the roadblocks, and the detours, as we steer forward in this continuing fight.
–
December 5, 2020, at 9:00 AM – 12:00 NN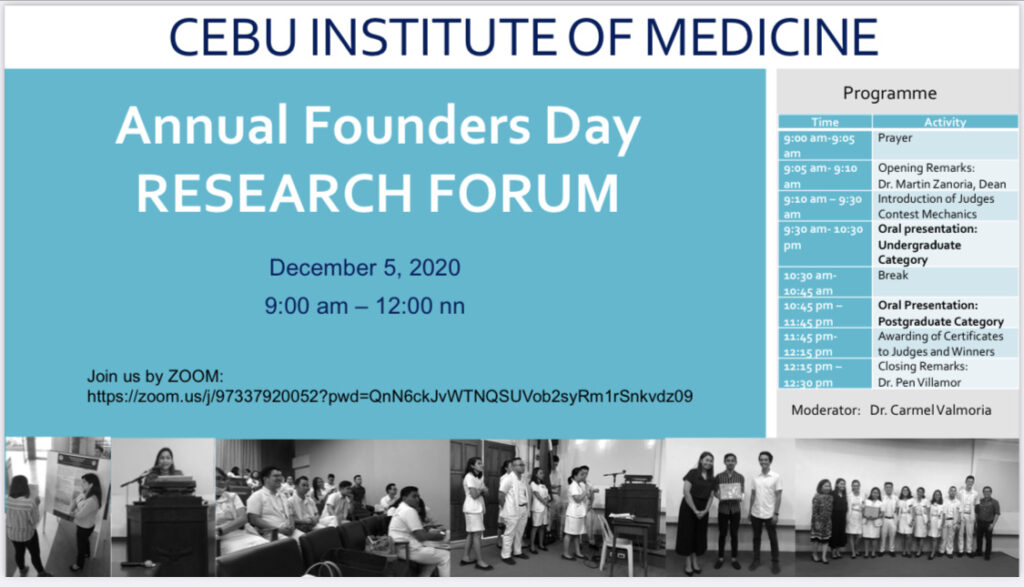 –
December 5, 2020, at 3:30 PM – 5:00 PM
As the medical community struggled to understand and contain the COVID-19 pandemic, the focus on other vital diseases was derailed. Cardiovascular disease remains the #1 cause of death and disability today. Obesity, as its most significant risk factor, had achieved epidemic proportions long before 2020.
Join our distinguished panel of experts (two cardiologists, an endocrinologist, a clinical nutrition specialist, and a surgeon) as they tackle the various modalities in addressing the OTHER pandemic.
---